This technologically advanced era lets you integrate digital technologies into your business. Communication tools help you gain popularity in business platforms. Talking about communication and verification tool or processes, Voice Over Internet Protocol (VoIP) plays an inevitable role. In simple words, this is a business phone system that is widely used and available.
And this is what we will be talking about. What is Non-VoIP number? And how this works?
The essay will be randomly arranged, so make sure you don't miss any part. Let's get started.
First, you need to know,
What is a Non-VoIP Number?

Most of the time users get confused between VoIP and Non-VoIP numbers. But for personal and business data safety, one should clearly understand how these two work and their differences.
As we already said, VoIP means Voice Over Internet Protocol. It is used to convert information into digital data and send it to its defined address over the internet.
VoIP numbers provide you with a wholesome package; You have access to
Voice Calls
Text Messages
Online Audio Conferences
Audio Broadcast
No Geographic Location Limit
But with all these emerald facilities there are some limitations for a VoIP number.
As your number doesn't have any locational limit. Many vital online services like meta, Facebook, PayPal, Apple, etc. don't accept SMS verification on VoIP numbers.
And that is where the Non VoIP numbers take the lead.
Non-VoIP numbers are widely available for authentication and verification procedures, because of their vast One Time Password (OTP) facilities. Well, if you are being puzzled, let me clear it all.
You already know how VoIP Numbers work, just in a different way, Non-VoIP Numbers have location limitations. As a result, you cannot use the number beyond your defined border and country.
But the facility is, these Non-VoIP Numbers are widely accepted for phone verification on almost all online services. Your Non-VoIP sim card runs by a physical sim card which has less risk of security breaching and hacking through the main user identity.
As a physical sim card protects online services from data hacking, most online platforms and services allow Non-VoIP numbers for online verification. Which you cannot get using a VoIP number.
Now as a general user, you may have a curiosity about what features you may get from a Non-VoIP number; Well! Explaining that here: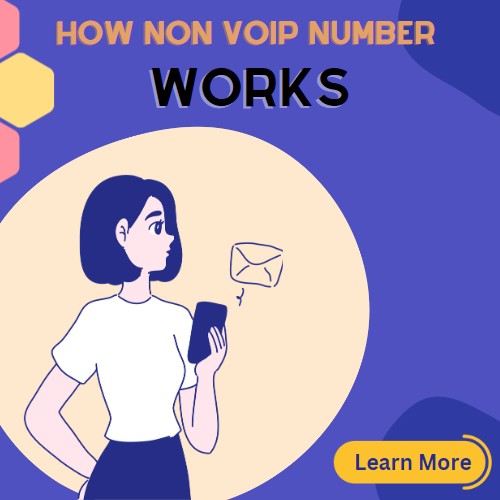 Features of Non-VoIP Numbers
Security Enhancement
Larger companies give you assurance about your data security. That's why they protect user data with different methods. But hacking techs are literally advanced nowadays. Hackers use versatile and unique methods to achieve user data and important information.
To save your data from these vulnerable issues, authority uses user ID authentication and verification with MFA and OTP codes. All those codes are only accessible from Non-VoIP numbers.
You cannot receive an OTP or MFA code in your VoIP number. So, stealing your information is made tougher by the use of Non-VoIP numbers. Though the process I've noted here is highly concentrated on money transactions and banking online services.
Verification Codes
Verification process is most of the time connected with registration on different sites. You may need to get access to Facebook, Instagram, meta, amazon and so many similar sites. For that, the very first thing you need is a registration on the site.
But to complete the registration you need to verify your identity and phone number with an OTP code. An SMS will contain the code and without that, you cannot confirm your account.
And the OTP SMS will only arrive on Non-VoIP numbers. So, you can have a concept of the value of a Non-VoIP number.
That is all you had to know about Non-VoIP numbers. But some more thing you should know is, these numbers are not free. You have to purchase a physical sim card and sometimes e-sim or online packages for it. There are different third-party apps and sites that claim clickbait offers as free sims. But most often they are not valid and come out as scams.
The truth is you can get a free trial on different non-VoIP number sites, but you need to confirm your card on purchase details first. Also, you can google easily for some sites that give your Non-VoIP sim card for hire on different time periods. This is how you can get a non-VoIP number. Digging deeper into the concept the users sometimes ask about the fixed VoIP and Non-Fixed VoIP numbers. The concept is not too different from what we talked about above, but they are categorized in a structural way.
In conclusion, you must need a Non-VoIP number for a large scale of your confidential works and verifications, which you cannot get with a VoIP number. Also, this ensures your data security and less risk of data stealing.